As instructed, I started this assignment by looking through the assignments for previous Parts. For Assignments 1and 2, I felt rather ashamed to see what I had done, and also positive, in that I feel that I have improved since then, in terms of skills, creativity and most of all, observation. I think I have learned to really look at things. Part 3 I was more pleased with, in that I felt that I had achieved a 'piece' of work, that meant something for me and for other people who might look at it.  I enjoyed the exercises for this Part more too, because I finally mastered perspective, at least in its more basic forms. Part 4 was less successful in terms of a final result of which I am proud, but when I look over all my drawings of the human figure (something I have been doing on and off for several years now), I can at last discern some improvement. I feel that positions or images that seem impossible can, in fact be achieved, and that I have a much better idea of the anatomy of parts of the body, although I still have considerable way to go.
For the assignment itself, however, I have chosen something that could potentially cross all these topics, which is Darkness. Ever since I first started painting and drawing, about six years ago, I have been interested in the idea of painting – or drawing – the dark, and have looked out for artists who did so. I have even made a couple of attempts of my own before, including this in acrylic, which started off being an attempt to paint the houses behind my garden, and ended up more of a fantasy, of a house and tree in a flood:
For this assignment, my first thought was to revisit Part 2 – where the assignment was disappointing, yet seemed quite a good idea at the time, and about which I thought a lot. I thought I might go further with the idea already pointed at in that drawing, to look at a room from the outside – but this tine from a long way away? When one walks down an urban street in the dark, it is always faschinating to look through the few windows where there are no curtains or blinds, and see the lit interior, and on a bleak night it usually looks somehow cosy, rich and warm compared to one's own position.
Another possibility is to revist the view from behind the house in the dark, where it often looks very interesting and somewhat beautiful, varying considerably with the weather and the moon. I would need to find the right night, however, and it would need to be considerably warmer than it is as I write this in February, with storms Ciara and Dennis raging outside. One disadvantage to darkness as a topic is that it seems almost impossible to photograph darkness, so it means always drawing from memory, or at least until it gets warmer. But I think that this is a good thing for me, as I am inclined to rely to much on photographs.
Looking at darkness?
Before I plunged into thinking about how various artists have portrayed the dark, I wanted to actually think about how it looks from first principles. One way of seeing the dark,  is to close one's eyes. Even with them closed, however, if there is some light in the room the appearance is different, with – it seems to me as I type this wiht them lcothes, some variation in light and even colour – although it is difficult to tell if that is for real, or more down to one's own imagination and perception based upon that. However, it is the case, perhaps, that darkness is rarely (or never) completely dark. As the singer and poet Leonard Cohen put it 'There is a crack in everything. That is how the light gets in'. Although this is a clever metaphor for life, it applies literally to darkness too; and generally, one perceives a ligher or brighter patch in the image you see with eyes closed, it relate in some way to the pattern of light in the room.
The artist Sam Winston has experimented with this idea, blacking out his studio in Whitechapel and drawing or painting what he imagines he sees, 'scribbles drawn in the dark' (Vane Saunders, 2018). He observed the biological effect of darkness: 'Regardless of how awake you're feeling, your eyes go, "It's night time so I'll release more melatonin." Once the melatonin's in your system, there's a kind of soporific effect. Your brain just goes under.'
I like this image from the exhibition in 2018 (which I didn't see), very much. It has a fuzzy soporific feeling about it, although I see that it has writing below the 'scribbles' or indeed maybe is all composed of writing? This sense of the darkness being composed of snippets of words and sentences rings true – dreams, after all, seem to be composed of partial images or scenarios (in my case, usually an unprepared lecture or a mental picture of a long dead relative) jumbled together in sequences which sometimes are coherent enough to be remembered as a partially plausible event, but most usually are not.
Sam Winston, 7 Days drawing in darkness 1, 2015. 168 x 99cm Graphite stick and pencil on 300gsm Fabriano artistico paper. Drawn in complete darkness over seven days and nights. Photo courtesy: the artist. Downloaded from the Eye Magazine blog, posted 13th December 2017 http://www.eyemagazine.com/blog/post/alone-in-the-dark
What colour is the dark? Driving to the airport at 5.30am one week in February, I noticed how blue it looked, admittedly a very dark blue.   I am not sure how much that relies on the proximity to dawn (in February, sunrise is around 7.15 so it wasn't so close), although I have noticed the same phenomenon behind my house in the late evening in summer, but I am not sure if this would still be true at, say, 3am. This time, in any case, the colour was startingly beautiful. It reminded me of the poem by Yeats (1865-1939) which starts:
'Had I the heavens' embroidered cloths,
Enwrought in golden and silver light.
The blue and the dim and the dark cloths,
Of night and light and the half-light.'
If he has ordered the words to correspond, between the third and fourth lines, then he also saw the darkness as blue, but this is not certain. I always however, have thought of the darkness as somewhat blue since learning this poem many years ago. In comparison with these 'blue, dim, dark' cloths, the paler cerulean blue and orange dawn that followed last Tuesday seemed garish.
Who has represented the dark?
Artists are more likely to be famous for their handling of light than of darkness. Most people like the light in a picture – artists are known for their distinctive treatment of light, or choose some location (such as the South of France or St Ives in Cornwall, or the Blue Mountains in Australia) for the distinctive quality of the light there. When I embarked upon this project I could think of very few artists that did try to portray the dark.
I started wtih perhaps the most famous British example, that is John Singer Sargent's image of his children in a garden at dusk, 'Carnation, Lily, Lily, Rose', painted in the late 1880s as below.
John S. Sargent.Carnation, Lily, Lily, Rose 1885-6. Canvas, 68 1/2×60 1/2 (174×154).
Chantrey Purchase from the artist 1887.
It is a wonderfully executed painting; has a slight eeriness which makes very clear that it is starting to be evening even without the lanterns. But for me it has very little of the dark in it, not nearly enough contrasts to count, and it seeems strange to think that before I started it was to me the most well known image of dark.
Once I started looking, however, I discovered more and more. There are many other artist who have portrayed darkness or semi-darkness, and only after looking into the topic for a few weeks did I realise quite how many. Indeed, probably the majority of artists have experimented with the topic at some time, but here I  have focused on the ones that have made a feature of portraying darkness in several works, and have had a sustained attempt to grapple with the subject.
One of these is Johan Christian Claussen Dahl (24 February 1788 – 14 October 1857), the so-called father of Norwegian landscape painting. This painting of 'Moonlight Night over Dresden' is lovely in its simplicity and strange greenish light from a moon shining through the clouds, almost as if they were a gauzy curtain.
Moonlight Night over Dresden 1827. Downloaded from the Athaneum Collection https://www.the-athenaeum.org/art/detail.php?ID=245662
He created many other images featuring moonlight (and the moon itself) or darkness, including this 'Tree by Moonlight' below, but they are difficult to find and reference properly. Some are lovely (many of his paintings were for me rather traditional landscapes in the naturalistic style of the time, even sentimental), and give some clues as to how to depict a dark sky, particularly the one above for a very dark sky and the one below for a lighter moonlight. the colour of the dark sky are very interesting and successful in both; in the first, a kind of blue/grey/black which is lovely, very subtle on the edge of being monochrome, and in the second a kind of purplish brown (achieved I think from mixing burnt umber and blue), with some yellow/orange. They are however, very much paintings, rather than drawings, and therefore of less use for this project.
Another artist who really seemed to unerstand the colour and texture of darkness as discussed above is Edvard Munsch,
Edward Munsch (1893) Starry Night  https://www.edvardmunch.org/starry-night.jsp
This is a painting of the seashore, with the dark bulk in centre stage a representation, apparently, of three trees (linden trees) whose foliage have melded together to form a crown. As the description beside the painting puts it,  'Here Munch tried to capture the emotions called forth by the night rather than to record its picturesque qualities. The color blue conveys the mysticism and melancholy of the landscape, which seems full of premonitions……… Varying thicknesses of blue and green paint are blended together to form the impression of a night sky.'  I agree with this very much – it is the colour here that contains the image of the darkness, but also the bulk of the dark shape of the trees, and the multi-coloured darkness of the foreground.
Another painter who is well known for tackling the dark is Peter Doig, with the most obvious example being his 'Symbol' painting The White Canoe, below.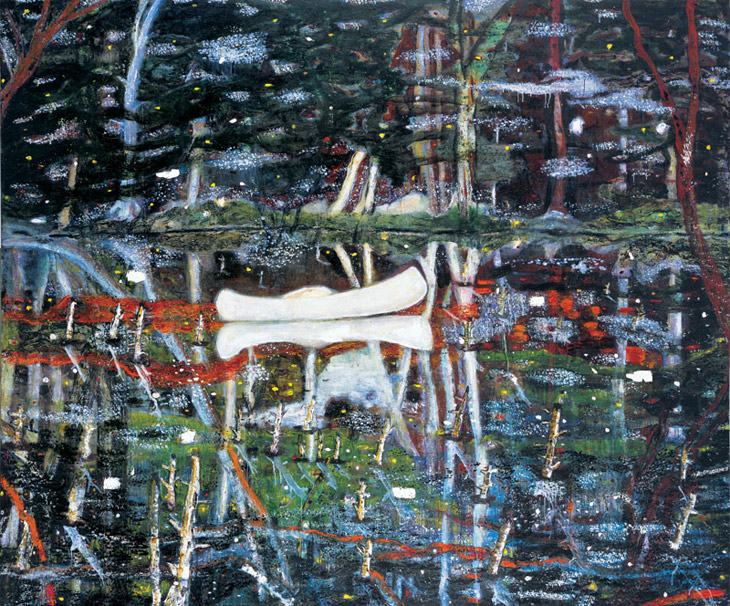 Peter Doig, 1990-1, White Canoe, Oil on Canvas, 200.5 x 243cm https://www.saatchigallery.com/artists/artpages/doig_white_canoe.htm
I love this painting, The way that the contrasting colours (red, green) dance on the water make it a bright image – yet somehow the darkness and mystery is also present, is what gives it intrinsic genius.  Doig is well known for these mysterious, dark scenes, where you hover betwen reality and some other world: 'You try to create scenarios and atmospheres in your paintings…….I don't set out to be deliberately sinister, but I always wanted to make paintings that told stories and suggested things.' (Hudson, 2013).
Peter Doig Echo Lake Oil on canvas. Support: 2305 × 3605 × 52 mm
This painting is also wonderful – darker in fact, and even more mysterious, with the strange elongated figure and his shadow.
An artist that I discovered during my quest for darkness, in that I did not know of her before (in contrast to Munsch, or Doig for example, two of my favourite painters) was Hedda Sterne, whose epigraph in her New York Times obituary was the "Artist of Many Styles" (Grimes, 2011). Sterne was a prolific painter whose career spanned 65 years, and was most closely associated with the Abstract Expressionists (artsy.net) although she painted in a variety of styles. She explained that her work oscillated between figuration and abstraction without preferring one style over another: 'Sometimes I react to immediate visible reality and sometimes I am prompted by ideas.' (Artsy.net). Sterne was the only female artist associated with the group of 18 Abstract Expressionists known as "the Irascibles."', highlighted famously in this photograph from Life Magazine in 1951.

Nina Leen/Time & Life Pictures- Getty Images 1951
For these purposes, her two most relevant works are below. First, the oil painting of moonlight is a lovely rich painting with great depth, with the feeling that the moon is somehow beind the building, which becomes like a curtain or tapestry and glows through. I love the balance between abstract and reality in this picture.
Hedda Sterne, Moonlight, 1946, Oil on canvas, 36 in. x 24 in.
Of perhaps more relevance for this drawing course, is the 'Untitled' image below, very simple but with real darkness on what I presume is water with the dark sky beyond. Unfortunately it is just described as 'mixed media', but I presume it is ink to achieve the fine lines yet blackness of the horizon.
Untitled, 1966, Mixed media on paper 11 × 6 7/10 in 27.9 × 17.1 cm, Victoria Miro Gallery, London Venice.
Darkness in St Ives and Jeremy Le Grice.
In mid-February 2020 I was fortunate to visit St Ives in Cornwall, somewhere I have never been, and to view a whole range of artists bound together by this lovely place, particularly during the period before and during the Second World War, when many took shelter there, and maintained an artistic community. Many of the artists were interested in the idea of darkness, perhaps partly because of the horrors of the war, and also because of the dark mystery of the tin mines that were, at the time still operational there.
I was already looking for darkness during this visit, and I found a number of images that were interesting, particularly William Scott's 'Mackeral on a Plate' (1952) or Graham Sutherland's dark, red-black, brooding images of the years immediately prior to the war, when the threat of war already felt imminent, or his 'Miner Probing A Drill Hole' (like many of the artists he was fascinated by the tin mines , including their dark interiors and the premonition of death and hell that they cast over the landscape) in 1942.
The artist that most caught my eye for his darkened images however, was rather less well known although very much a Cornish artist; the landscape painter and student of Peter Lanyon's, Jeremy le Grice. One gallery (the Penwith) had an exhibition of his work lent by his widow, who was driving them a little crazy, asking them to sell the paintings to customers who 'really loved them' but refusing in the main to agree a price or indeed to even sell any of the paintings to which she felt most attatched.
An obituary on Le Grice's death in 2012 suggested that his father's death when he was an infant had led to his use of a darker pallete; 'He was deeply haunted, from the age of three, by the death of his father at Dunkirk and his mother's subsequent nervous breakdown. These events may account for his partiality to the lower, muted register of colours. Far from being gloomy, the effect is of an iridescent interplay between dark and light that evokes mystery and hints at hidden secrets.' (David Whittaker in the Guardian, 3rd September 2012).
I very much liked this white house, encased in black background that made the house and foreground grass glow.
White Cottage, Lamorna. Author's photograph (no details available from artist's widow, so date unknown).
Or this hulking boat, where you can almost feel the cold rusty hull, although as the gallery owner explained to us, this painting (like many of de Grice's later work, when he had become disenchanted with the art world  and the 'production of merchandise') was rather unfinished and incomplete, suggesting that it could have been even better had he spent some more time on it.
My favourite, however, was this image of a barn:
Alsia Barn. Author's photograph (no details available from artist's widow, so date unknown). Viewed in Portland Gallery, St Ives.

I love the way that this is such a dark image, yet actually has quite a lot of light in it, and the simple trick of letting the bare canvas show through the paint to give an image of dappled sunlight, perhaps in a forest – and having something of the textual feel and light shining through the image that the Sterne picture of moonlight has above. I enquired about the price in the gallery, and they did ring Le Grise's widow for me, while I stood around trying to look as if I loved it enough to satisfy her criteria for selling, but the quoted price (with the gallery's mark up) was beyond my means.
Van Gogh was well known for painting night skies, but  to me the most famous later paintings are too bright and rich, too visually appealing to encapsulate darkness, although according to Trachtman (2008), he 'lived at night', writing a letter to his brother that 'It often seems to me that the night is much more alive and richly colored than the day….The problem of painting night scenes and effects on the spot and actually by night interests me enormously.'  Although the paintings that arose from this interest are beautiful, inspired, and undoubtedly portray something of the night, it often seems a bright, even sociable night (perhaps strangely for such a disturbed man), characterised by lights and stars, rather than the lonely solitude evoked by true darkness. The only exceptions are some of his earlier paintings which some have tried to trace back to his 'dark' period in London in the 1870s and later in Brabant living with his parents (metaphorically dark, because this is when he first started to become disturbed), for example this image of 'The Potato Eaters', or the Woman's Head below, or later in London. A recent exhibition in London ('Van Gogh and Britain', Tate Gallery, 27th March – 11th August) tried to suggest that this period in London shaped his whole genre, although others have questioned this view (Jones, 2019). It might be argued that it rather may have led to the start of his determination to burst out of these dark scenes of urban poverty and pollution and Dickension suffering into the bright skies of Provence, and the South of France (Jones, 2019).
The PotatoEaters, 1885, see https://www.vangoghmuseum.nl/en/vincent-van-gogh-life-and-work/van-goghs-life-1853-1890/from-dark-to-light
Head of a Woman 1885. Oil on canvas, 16 1/8 x 13 3/8″ (41 x 34 cm) Kroller-Muller Museum, Otterlo, see https://joachimpissarro.com/cat/curatorial/van-gogh-and-the-colors-of-the-night/
Another artist that I have discussed in this course, Kathe Kollwitz (see Part 4) also presents very dark images, this time of the human form. However, when I thought about it, these are studies of dark feelings and damaged souls, rather than the dark itself. I did try to depict one such image during a life drawing class below, and although I am quite happy with the way that the image came out, but I felt that really this is off topic, using the darkness as a tool for drawing the figure rather than a topic in its own right.
In contrast, I did try drawing a form – of my own hand – actually in the dark, which was more in the spirit of the Project. I quite like this image (although I realise the hand is too broad and not long enough
Which artists of the dark does this post not discuss?
Clearly, to discuss artistic portrayals of darkness, I have rejected a number of possiblities. I have not made reference to any works that are in effect plays on words – dark arts etc., and I have not chosen to focus on attempts to make images of mental darkness such as depression, many of which are indeed very dark (see https://www.boredpanda.com/depression-through-art/?utm_source=google&utm_medium=organic&utm_campaign=organic? Although …….)
There are some artists who are known for their works on the dark, or have used very dark formats, such as Santo Tomas Nadie Puja Jose de Ribeira. tenebrism. (tenebrismo)…..
Rembrandt….Goya, who very much entered the dark in his later work, see:
https://www.irishtimes.com/news/goya-s-journey-from-light-to-darkness-1.39304 – or
https://www.theguardian.com/artanddesign/2019/jan/30/goya-black-paintings-prado-madrid-bicentennial-exhibition or
Also, Caravaggio – though see https://www.artsy.net/article/institution-team-how-caravaggio-turrell-and-3-other-artists-revolutionized where used to illustrate light
This is partly because put simply, these are all very painterly painters, and this is a drawing course. I am hoping that it might be possible to pursue this same theme in one of the other courses specifically on painting, and then I would cast my net widely. It is also, however, the case that in this post I have been working towards identifing the artists (discussed in the next section) whose paths I want to follow, and I knew that none of these painters came into that cateogry.
Edward Hopper and Léon Spilliaert
Of all the works that I looked at for this Project, however, there emerged two artists that are most well known for portraying darkness, and from whom I learnt most for thinking about the topic. The first of these was Edward Hopper, famous for his lonely, desolate figures and eerie, empty buildings at night, mysterious and loaded with obscure significance: 'They seem to hold secrets, layers of meaning, hinted-at narratives floating beneath the surface.' (Bond, 2014).
Many of Hopper's pictures were relevant and I could have spent many pages discussing them. I chose two, one of which was the Office at Night (1940), a typical Hopper image with a mysterious tableau – a woman, presumably a secretary, looking at the seated man, who stares at a sheet of paper. Hopper apparently never discussed the meaing of his paintings, but suggested in a letter to the Walker Centre that 'The picture was probably first suggested by many rides on the 'L' train in New York after dark, and glimpses of office interiors that were so fleeting as to leave fresh and vivid impressions on my mind' (Bond, 2014). This reminded me of one idea that I had for this Project and also mentioned in Part 2, which was to draw on of the lit interiors that I see in local streets when I walk past with the dog in the winter. They do indeed leave vivid impressions, particularly when you are alone and cold outside, and the interiors look warm (if something may look warm), inviting and convivial.
Edward Hopper, Office at Night, 1940, Walker Centre, Minneapolis.
The dark is entirely embedded in the atmosphere of this strange painting, its effects everywhere (the dark shadows, on the furniture, outside the window to the right and through the glass of the doors on the left), and also in the bleak, still, lonely appearance of the two figures, for whom it is so clearly past office hours. However, darkness is of the picture but not in it (apart from the sliver of the window to the right), so I searched for another more direct portrayal in other works by Hopper.
One such work is this also iconic image; Rooms for Tourists, from 1945, portraying one of 'Hopper's isolated Victorian houses, with their porches and pediments and staring windows', which have been recycled by illustrators and filmmakers: 'the house the comically sinister Addams family lived in is a Hopper house, and so is the mansion alone on the Texas prairie in Giant, and the house in Hitchcock's Psycho.' (Hughes, 1997). This was a house where Hopper spent his summers, and he spent many hours sketching (in daylight) but in the final work, he covered it in darkness. I particularly like the hinted at images of other houses to the right, just discernible in the darkness but blending in perfectly.
Rooms for Tourists, 1945, Courtesy of www.EdwardHopper.net
Of all his many works of the night and the dark, however, it was this etching that really struck me for this Project. From much earlier in this career, 1921, it is quite a simple image but incredibly evocative. Apparently, Hopper had returned to New York from Paris in 1910 and took up etching when he failed to sell paintings, producing about 70 prints between 1915 and 1923. I had never seen any of his etchings before, and was entranced by this one.
Night in the Park, 1921, Etching, Plate: 6 7/8 × 8 1/4 in. (17.4 × 21 cm), Sheet: 9 7/16 × 10 7/8 in. (24 × 27.6 cm)Metropolitan Museum of Art, New York, https://www.metmuseum.org/art/collection/search/366212

This wonderful image of a man sitting on a park bench, reading a newspaper under a street lamp is truly of the dark. It has all the solitary loneliness that I was looking for above. The blackness under the benches and the trees to the right is brilliantly done, reaffirming what I started to think during Part 4 when discussing Kathe Kollwitz, which is that you can only get certain types of dark image with etching and igniting my interest in this medium, not something I have ever thought of trying before. It is incredibly atmospheric, you can feel yourself there.
The other artist who is almost defined by his portrayals of dark scenes is Léon Spilliaert, a Belgian artist who lived from 1881-1946.. He apparently had some kind of stomach ailment and the resultant insomnia caused him to pace the streets of Ostend at night. As an article on the 2020 exhibition at the Royal Academy put it 'His pictures from the early 1900s, many of which have an eerie lunar quality, testify both to his loneliness and his longing for the night.' (Beaumont, 2020). Obviously this made me tremendously keen to see the exhibition; unfortunately I did not get there before the museum closed for the 2020 Coronavirus pandemic, but there is an excellent video tour of the exhibition which I found very helpful.
I love this image, which has real depth, the sky seeming to disappear into a vortex wtih the moon at the centre. Like the Sterne image above, the moon seems to shine through the rest of the drawing – but this is very much a drawing rather than a painting, one of the things that drew me to Spilliaert for these purposes. The moon has great depty while the artificial lights, alhtough brighter and colourful as well, seem obviously on the surface, an interesting way to depict their artificiality and lack of connection to fundamental elements.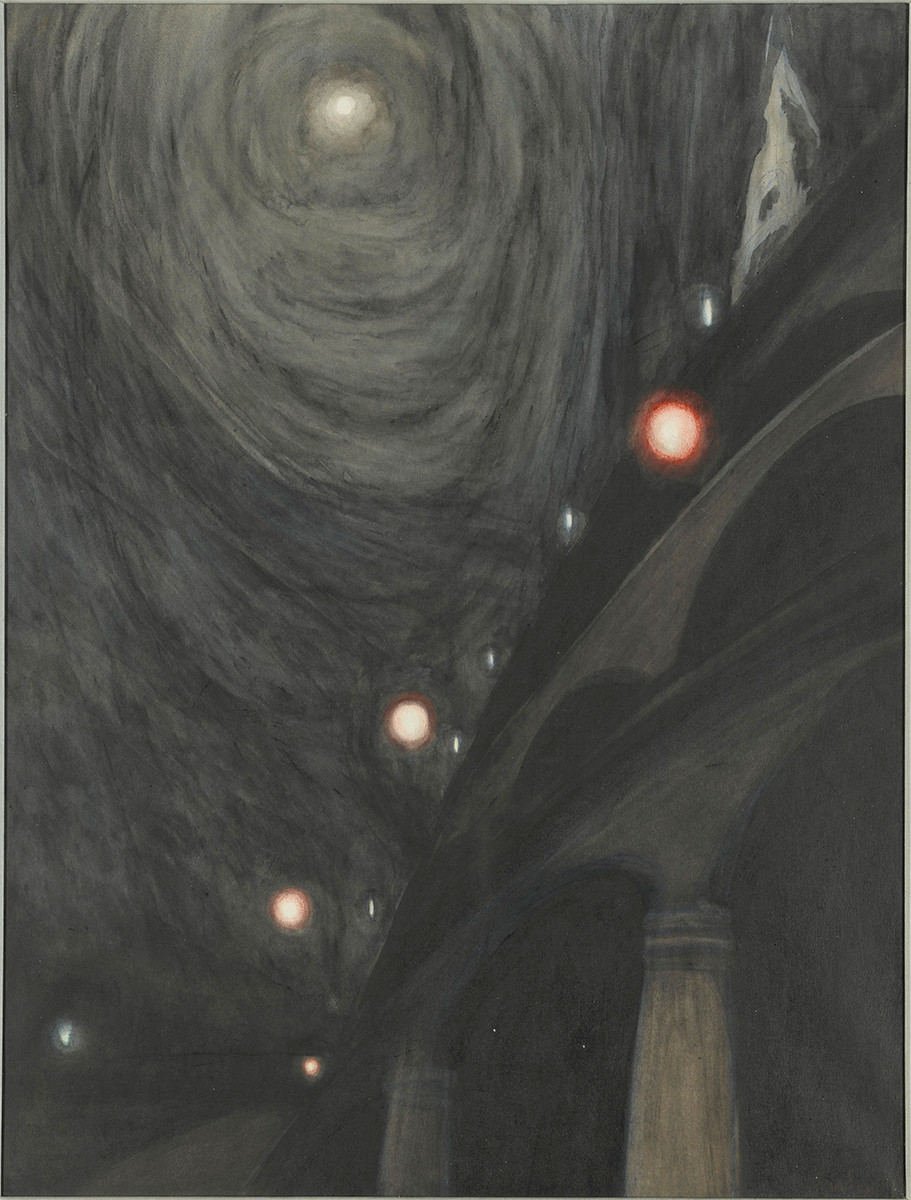 Moonlight and Lights, 1909. Pastel and ink wash on paper. 64 x 48.5 cm. Musée d'Orsay, Paris. Gift of Madeleine Spilliaert, 1981/Photo © RMN-Grand Palais (Musée d'Orsay)/Hervé Lewandowski.
This is also an extraordinary image, and I was struck by this observation; 'If photographs of Ostend at the turn of the last century celebrate the bustling sociability of the beach, then this drawing on paper is by contrast sinister in its blankness. Its single, isolated hut, a mysterious moonlit box, floats at the bottom left of the composition as if it has been abandoned by a receding tide' (Beaumont, 2020). There is also the contrast with Van Gogh, whose nights seem strangely populated and cheerful. The perfectly formed beach hut in the foreground provides the contrast with the bleak landscape.

Beach Hut, 1902. Indian ink wash, pen and charcoal on paper. 14.5 x 37.5 cm. Private Collection/ Photo © Daniël de Kievith. See Beaumont (2020) for image.
Finally, this image of the Night is another masterpiece, with the strange top-hatted elongated figure, the simple stark building and the extraordinary lights make up for a disturbing image.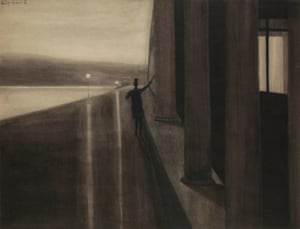 The Night, 1908. Photograph: Vincent Everarts/Collection of the Belgian State, in deposit at Musée d'Ixelles, Brussels.
Finally, for me this is the best of all; a street scene in Ostend of a street glimpsed between two buildings, with the sky above. It is not clear whether the light in the centre refers to a street light or vehicle headlights – or the light of a boat on the sea. Either way, I found the portrayal of the windows and the details of the balconies really interesting, and have poured over them in anticipation of my own drawing.
Ostend Hofstraat,1908. https://arthive.com/artists/6035~Leon_Spilliaert/works/471830~Ostend_Hofstraat_1908
Artist's Statement
I first attempted to draw the dark in pastels with closed eyes….(redo, much darker, has come out strangely light in the photograph)
After doing research for Part 5, I fastened on two artists – Hopper and Schillaert – whose works on darkness I had most admired, and these generated two ideas for me of what to do for this exercise:
(1). The first idea related to Edward Hopper. I was interested in the idea of a Hopper style house, such as a lonely house in the dark (this is from Hopper's lonely house that I saw when in DC in March 2019, but actually le Grice's white cottage is rather reminiscent of this, but it was hard to see what I might add to those lovely images), or to draw on 'Rooms for Tourists' for the darkness and the appearance of a house in the dark.
But of all his many images of night, I was most keen on the idea of something that had the same sense of dark mystery of the 'Man in the park'. It reminded me of Canonbury Square in Islington in London, where I bought my first apartment, in the mansard roof.  The large trees on the corner of the square were full of horrors for me after 1998, when I was mugged on my doorstep by someone who had hidden there. So I started to think about how I might create a drawing based on the idea of dark trees where anything could be lurking (as in the Hopper etching) beside a London street.
I wanted to use ink both for line and tone, for the first time on this course, so I needed to practise, particularly the foliage on the trees (so brilliant in the Hopper etching) and the darkness underneath.
(2) The other idea was to do a dark scene using ideas from Schillaert's steets and seascapes at night. I practised first with rather abtract buildings (note mistake in vanishing point) – I quite enjoyed doing this image, and was inspired to follow this idea through to the end, although I would still like to pursue the Hopper idea at some point.
I was starting to enjoy painting with ink, and practised again by trying to replicate Schillaert's moon in the sky.  This was also nice to do, and I was happy with the nice illumination at the centre, although the lines are too defined and need more tonal gradation at the edges; I think it has some depth.
During the thought process for this piece, I spent a couple of days in an apartment overlooking a beach in St Ives in February, and looked for dark images everywhere, in the pictures that I looked at in the Tate and smaller galleries, and the images I saw from inside and outside the apartment. I took many, many photographs trying to capture images in the dark, even borrowing a sophisticated camera instead of the iPhone, but all were pretty bad. You can just about discern the image I wanted from this terrible photograph:
You can hardly see it here, but I like the look of the stone house on the left, the black sea with the just visible white horses of the waves and the discernible light from the front window of the house. There was actually a building (less attractive) on the right (it is a narrow beach) which offers the possiblity of the narrow glimpse between two buildings of Schillaert's street scene shown above in Part 5. I tried a rough sketch below in soluble graphite, with a couple of options for the windows – the black windows didn't work, in spite of the fact that they are black in real life, contrasting with the bright white of the woodwork, but a better sense of this comes from the simplicity and contrast of the ones left blank.
This time I have used ink and tried for more accuracy with the house, although the windows are unfinished;  they are too wide and I need to straighten up the vertical lines, as well as dampening the brightness of the bare white paper. Having just seen an image on the TV news of a Georgian house (possibly Downing St) in the dark with bright windows – just the black lines of the cross cutting frames, I decided to do that. I believe that everything needs to get darker, even the white horses on the waves. The problem with ink is that there is no going back on decisions. Indeed, I had meant to experiment with some kind of moon, trying to capture the idea of a the sky stretched over the moon which shines through which has appeared in various of the works that I explored in Part 5. But I would have to start again to do that.
Finally, many iterations and layers of ink later (but always, inevitably) going darker and darker, I arrived at the following image, which to some extent is final, or at least set within certain parameteres in that there is little else that I can do without starting again, although I might black out the nearest window. It is already over-worked. I have darkened the windows and added window bars, and blackened the door.  I have made the stone of the cottage less precise, with more of an idea of the Cornish stone. I have made the turning waves lighter and less regular. made everything darker, particularly the sky and the foreground, and drawn a path going into the distance, which adds some ambiguity, as does the light from the beach-side of the house.
There are two things that I considered in addition. The first was that I hadn't got the 'blue' of 'dim and the dark and the blue clothes' of the Yeats poem quoted above. I had bought some Indian ink which I fondly remembered from school days as blue black, but either it has got lighter or my memory has darkend it because it was far too blue to use, although of course it can be mixed with the black. However, from staring endlessly at the picture and the actual scene in Cornwall, I couldn't discern any blue in this particular context, and I felt that any blue at all would interfere with the monochrome nature of the image and indeed those of Schillaert that I admire so much. Second, my image is rather dead and empty over on the right hand side, it being unclear what is in the foreground, and evidently not enough variation in the band of sea. I pondered cutting off the picture further towards the centre, or adding a human figure leaning against the cottage, staring out.
However, I eventually decided, after some experimentation with drawing figures and cutting them out and pasting them against the cottage, rather to draw some trees in the darkness to the right, to balance the picture and vary the darkness. I quite like the effect here of black on black – in the actual image, I have managed to preserve some dimensionality by using different instruments for applying the ink, using a wooden bamboo pen for some parts of the trunk and the long blades of seagrass to the front, and a thin bursh for the rest. I quite like the blending of the foliage of the trees into the darkness, and the added ambiguity and mystery that the trees add. Unfortunately, this is very hard to photograph, and I am hoping that I will capture the image more accurately when it is mounted for assessment.
Am I pleased with the result? I am pleased with what I have learnt and discovered during the course of this project, and to have used ink in a substantive way for the first time. This image lacks Shillaert's mistiness and fuzziness combined with an almost haunted precision, which I regret, but it does unambiguously represent darkness. I have realised during the course of this Project that there are many kinds of darkness, of different colours and levels of transparency. This image is an attempt to portray something of the dark velvety black that even once your eyes penetrate enough to discern the outlines of some images, the essence is impenetrable, and you cannot work out either distance or form. I hope to work on the many other kinds of darkness, using different media, during subsequent courses.
References
Beaumont, M. (2020) 'Léon Spilliaert: an artist that embraced the dark', RA Magazine, Spring 2020, or RA web site. https://www.royalacademy.org.uk/article/leon-spilliaert-an-artist-that-embraced-the-dark
Bond, C. (2014) 'These Sketches Will Take You Into the Artistic Mind of Edward Hopper', Smithsonian Magazine, 1st April. https://www.smithsonianmag.com/travel/these-sketches-will-take-you-into-the-artistic-mind-edward-hopper-180950255/
Cummings, L. (2020) 'Discovering the art of Léon Spilliaert, Belgium's unsung genius', The Observer, 9th February.
Fane Saunders, T. (2018) 'Meet the Visual Artist who Works in Total Darkness', The Daily Telegraph, 10th January.
Grimes, W. (2011) 'Hedda Sterne, an Artist of Many Styles, Dies at 100', New York Times,
Hudson, M. (2013) 'Peter Doig interview: the triumph of painting', The Daily Telegraph, 2nd August.
Hughes, R. (1997). American visions: The epic history of art in America. N. York: Alfred A. Knopf.
Jones, J. (2019) 'Van Gogh and Britain review – gaslit London inspired his starry night? Come off it!', The Guardian, 25th March.
Trachtman, P. (2008) 'Van Gogh's Night Visions', Smithsonian Magazine, January. https://www.smithsonianmag.com/arts-culture/van-goghs-night-visions-131900002/